Welcome to our church
Our ministry is fixed on reaching people with the love and compassion of Jesus Christ. We have been ministering to Indianapolis and the surrounding community for over a century.
What to expect?
Our worship service are a blend of classic hymns and modern praise and worship songs. We also have a variety of people who attend the church, some who wear jeans and t-shirts, and others who wear suits and ties.
Join us this week.
Please come Sundays for bible study at 9:30a for our Connections Class time. Afterwards, our Welcome Center will be open for you to enjoy a cup of coffee or a soft drink. Then we want to invite you to stay and join us for Worship which begins at 11:00a and lasts about an hour.
PASTOR TOM AND NORMA STRONG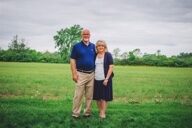 Pastor Tom Strong and his wife Norma moved to Indianapolis in the spring of 1978, and currently reside on the east side of Indianapolis. They are close to their four children and their families, including 13 grandchildren, who all live in the Indianapolis area. They enjoy their family get-togethers, watching their grandchildren in their activities, and seeing their children's success and growth as leaders of their families. They also enjoy sports, travel and working in the yard.
Pastor Strong and Norma moved to Indianapolis in the Spring of 1978, having just graduated from Dallas Theological Seminary. Both Tom and Norma completed their undergraduate work at Cedarville College (now Cedarville University). They came to the Indianapolis area in 1978 to pastor the First Baptist Church of Beech Grove, Tom's first pastorate, and remained in that role until early 2007, after almost 30 years. Norma taught in the Beech Grove school system for many of those years.
Shortly after leaving First Baptist, another area church, Pleasant View Baptist, invited Tom to come and help them through some rough times. He accepted the invitation and stayed for 7 years, retiring from that ministry in 2014.
Pastor Tom is returning to First Baptist as interim pastor at this time for the same reason he came to First Baptist in 1978, and to Pleasant View Baptist later on. These churches had gone through some rough times and needed encouragement and stabilization, which was followed by growth. Both he and Norma are looking forward to the opportunities once again at First Baptist!